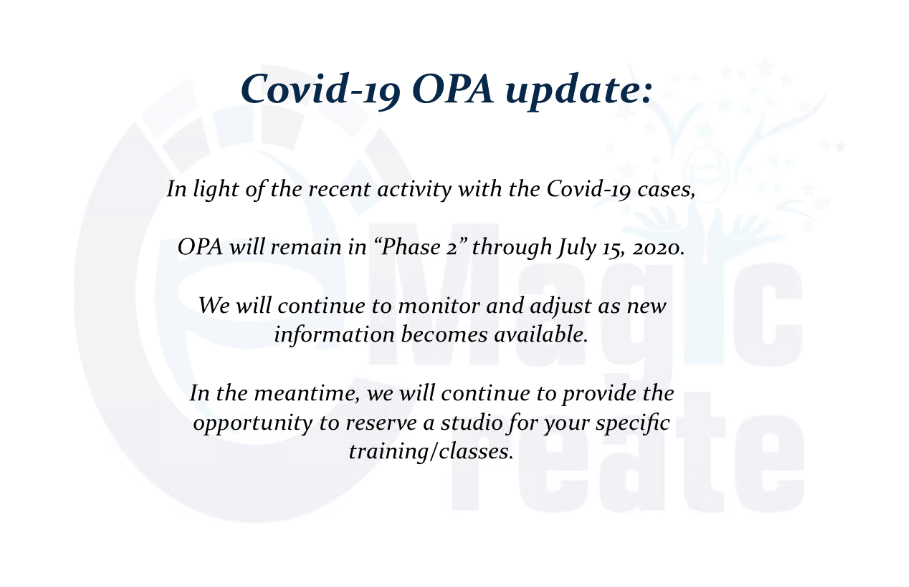 OPA is now ready for…
Phase 2 Open OPA.
(we will be one phase behind the City of Tulsa)
We will be opening OPA to individual single-family units. We will be staggering entering and exiting to ensure that we are following the social-distancing guidelines.
We have a set of requirements that we will need to follow to be present at OPA.
YOUR FAMILY DOES NOT HAVE TO BE AT OPA TO ATTEND REHEARSALS/CLASSES OR TRAINING!
This is completely your family's decision. OPA will respect all positions with love and acceptance.
We will continue to offer the virtual option. Virtual and In-person Rehearsal/Class/Training will be conducted simultaneously.
Phase 3 Open OPA:
Phase 3 we will broaden our rehearsals/classes/training to small groups of 4 to 5 with a Faculty member present when possible, while observing the social-distancing requirements. We will continue to follow the previous requirements set in Phase 2 OpenOPA.
If we can be of assistance, or if you have questions or concerns, please let us know – preferably by email, opaoffice@opan2art.org
We ARE working and moving forward with your child's ARTS education.
We are in the ARTs!
We ARE resourceful.
The ARTs will see us through this time.
We WILL continue to see and create magic!